NEW DAY NEW LESSON » Emotions, Featured, Life Happens, Yeah Write » It Changes a Person

It changes a person, those few simple words.

Those few simple words spoken in but seconds.
Those few seconds that seemed to stretch forever.
In that one moment, she forgets how to breathe.
She doesn't know what to think.
All she wishes is that it wasn't her and that she just wasn't there.
She simply doesn't know what to do or how to feel.
She wants to run, far far away, but her feet are glued to the floor, heavy as lead.
To feel is the hardest, it would mean acknowledging the pain and letting it in. If she feels, she'll fall apart and no one will be able to put the pieces back together again.
In the span of a second she thinks of all the time she's had. In the span of a second, she thinks of all the times she's had, both good and bad. She has flashes of memories, laced with regrets and pangs of worry about what the future will bring. All those emotions stirring within but all of them trapped by her skin constricting with every breath.
There is so much to comprehend as she slowly shuts down. Her ears listen yet her mind is numb and the words swirling around her don't seem to make sense. Her eyes see, but they are blind and don't comprehend.
She's aware of the arm around her shoulder trying to be strong and to support, but she doesn't feel it, it just doesn't seem to belong.
She asks questions, questions whose answers she doesn't really want to hear. She wants to retreat, to curl up and find a spot that will make her feel protected and safe.
But today that's not to be. It just wasn't meant to be.
Today, for her, it has all changed. For her, starting today, life will never be the same.

Is it the beginning of the end or the beginning of a new beginning? The beginning of hope and change or the beginning of despair and pain?

Her life has changed, all it took was but a few minutes. All it took was a few small words.
It's cancer.
And another few words.
It can be beat.
*I wrote this post to celebrate the strength and the courage of all my patients. And yeah, they have courage even when they feel their world is falling apart. I have learned so much from all of of them.
This post is part of: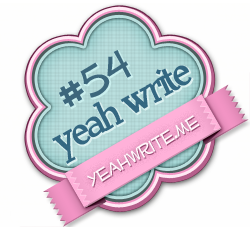 Filed under: Emotions, Featured, Life Happens, Yeah Write