NEW DAY NEW LESSON » communication, Emotions, Lesson of the Day, Self Esteem » Be Vulnerable
No one likes to feel like a fool and no one likes to be hurt. No one likes to be criticized or have their faults pointed out or used against them.
And because we live in a world that is calculated, a world in which we have been taught the value of being strong, we often think things through instead of "feeling" things through.
So time and time again we hide a part of ourselves away and instead of letting someone in, we act strong and invulnerable. We do it again and again, sometimes more and sometimes less.
We put up walls to prevent ourselves from being hurt, to prevent ourselves from being vulnerable, to prevent ourselves from hurt.
We put up walls to keep people out and to hide our insecurities instead of letting people in and letting them see us as we truly are, with all our imperfections.
Sometimes our walls are paper thin and at other times they are as strong as poured concrete.
But they are walls. Walls that keep others out. Walls that prevent us from getting closer to people who could make our lives immeasurably better. Walls that prevent us from getting closer to those we admire, we love and cherish.
They are walls that take so much energy to build, energy that could instead be used to build connections, understanding and closeness.
We're afraid to be vulnerable because we're not sure of ourselves so how others react, affects our self esteem and hurts us. We are afraid of being used and of being rejected.
But sometimes, with those we love, the walls get lowered, fall down or at times, knocked down.
And I think that vulnerability should not be reserved for those we love or who are the closest to us.
Because to live life with vulnerability is to lead a life of courage.
Vulnerability is not weakness. Vulnerability lets people get to know the real you, imperfections and all.
And yes, at times, you may get hurt but that's a small price to play for living a life without walls.
Vulnerability is not weakness. Vulnerability is courage.
So go on, take the risk. Be vulnerable.
What keeps you from being vulnerable?
*And if you want to read my thoughts on why television is ruining our happiness, pop over to World Mom's Blog.
This post was written as part of yeahwrite week #52. Go on and check out all the great posts there.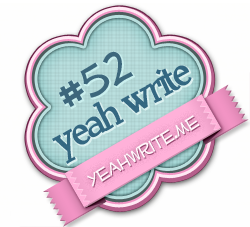 Filed under: communication, Emotions, Lesson of the Day, Self Esteem · Tags: be vulnerable, vulnerability=courage, vulnerable